As the January transfer window opens William Carvalho (Sporting Clube de Portugal) is one of the most mentioned names when reviewing the Premier League "rumour mill". The reported interest of some of the biggest English clubs on the Portuguese midfielder has made the headlines since the summer transfer window, with the likes of Manchester United and Arsenal mentioned as being interested on the player. According to the most recent reports Arsène Wenger's Gunners look as the stronger candidates to complete a possible deal in January.
But is William ready for Premier League? How can we accurately rate his performance on the current season and how does it compare to the 2013/14 campaign that brought him under the international radar? Let's look at the figures and access William's current "delivery status", based on his performance, comparing the 13 league games he already played this season versus his "trademark" 2013/14 debut.
Improved, regressed or… just ready?
William's performance in 2014/15 has motivated numerous discussions, especially on the Portuguese press, with several pundits and analysts stating – with various degrees of objectiveness – that Carvalho's performance in the current season is below par when compared with his début campaign with Sporting's first team. Looking at William's stats there seems to be some evidence of a performance decrease… and it's opposite.
A performance decrease is evident in what was probably Carvalho's strongest asset during his first season – his defensive game. Nevertheless, the downfall is not as deep as the vox populi states. It's true that the Portuguese player recovers the ball slightly less frequently than in the past (8,7 versus 8,3) but on the other hand he has achieved more interceptions (two per game) and more tackling efficiency (83%), although attempting less tackles (2,3 attempts versus 3,4 in 2013/14).
Things get trickier when looking into Carvalho's build-up play: he has made more passes per game than last season (56 versus 53) maintaining a similar efficiency (82% versus 84%). William has also completed more key passes (0,9 per game versus 0,7) recording already one assist, against none in 2013/14. The Portuguese is also shooting more often (0,9) despite still waiting to open his tally (he scored four goals in the previous campaign).
Better in Champions League
But what better barometer can we find of William's ability to perform in the BPL than his performance in Sporting's return to the Champions League? Let's look into it then.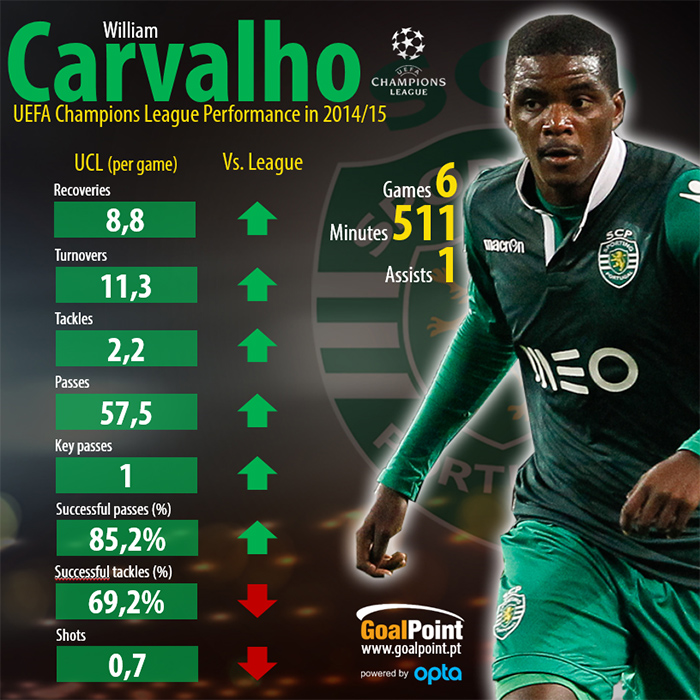 Despite the increased difficulty level of the most demanding European competition William performed better in the UCL than in the current domestic season and, in some variables, better than in his début campaign. Carvalho made more recoveries (8,8), made more passes (57,5) and more key passes (one per game) and had an overall greater passing efficiency (85,2%) than in any of his two domestic seasons.
The (probable) reasons for a different Carvalho
The changes in William Carvalho's performances on the three analysed vectors can be explained by tactical and contextual reasons. On the tactical side we should note that there are clear differences between the way Sporting plays under Marco Silva, with more emphasis on offence and therefore risk, when compared with Leonardo Jardim's tenure, based on a more cautious and defensively structured set-up of the 4-3-3. Sporting has been leading the league in key passes and shots, which demonstrates that Marco Silva's Sporting challenges William Carvalho to a slightly different role than the secure background he found under Jardim.
On the contextual side of things we find the human side of the player. On the last third of the previous season William started being regularly linked with a transfer abroad, a move that never was and that, linked with his "less than stellar" current contract and his natural ambition as a player might have influenced his mindset when the season kicked-off and his performance seemed to reach its low point.
William Carvalho's ability to perform at the highest level can only be proven through confirmation but what the figures show is that the Portuguese midfielder is far from the debacle that some media subjectively portrayed him in Portugal. It's true that William is playing under a different dynamic, due to Marco Silva's system changes, but far from a player in decline after his first season outburst. Portuguese football has had several episodes of "excessive criticism" regarding players that latter excelled on far demanding competitions and the most recent examples, like José Fonte (Southampton, Premier League) and André Gomes (Valencia, La Liga), are there as reminders that sometimes we are not the best – and most of of all the most objective – judges of our own talent and its ability to deliver at the highest.