Cristiano Ronaldo's recent substitution at the beginning of the second half against Milan, a match where Juventus won 1-0, continues to feed the news. The Portuguese star was criticised for going straight to the dressing room, leaving the pitch allegedly with a "poker face". At the same time he is praised by his coach, Maurizio Sarri, for his "sacrifice" due to a knee problem. Basically, everything is a reason to talk about CR7.
The renowned Italian coach Fabio Capello was no exception. While commentating the game for a television channel, Capello said:
"In Spain he [Cristiano] used to run away from opponents and leave them far behind. Dybala and Douglas Costa are doing that now. It's been three years since he [Cristiano] last dribbled past someone"
Is that is really true, or an exaggeration?
In October 2016 – yes, three years ago – GoalPoint identified changes in Ronaldo's football, and the data was supporting that. The Ronaldo, who used to dribble with stunning moves, was not the same. The data showed a clear decrease of attempted and completed dribbles (from 6.7 per 90 minutes in 2007/08 to 2.9 in 2015/16), at the same time, however, he was becoming a lethal finisher.
When his critics say that Ronaldo is close to an end of his brilliance, they end up silent a few weeks later. The Portuguese usually recovers his form to end every season with great numbers. Fabio Capello may be one such a case.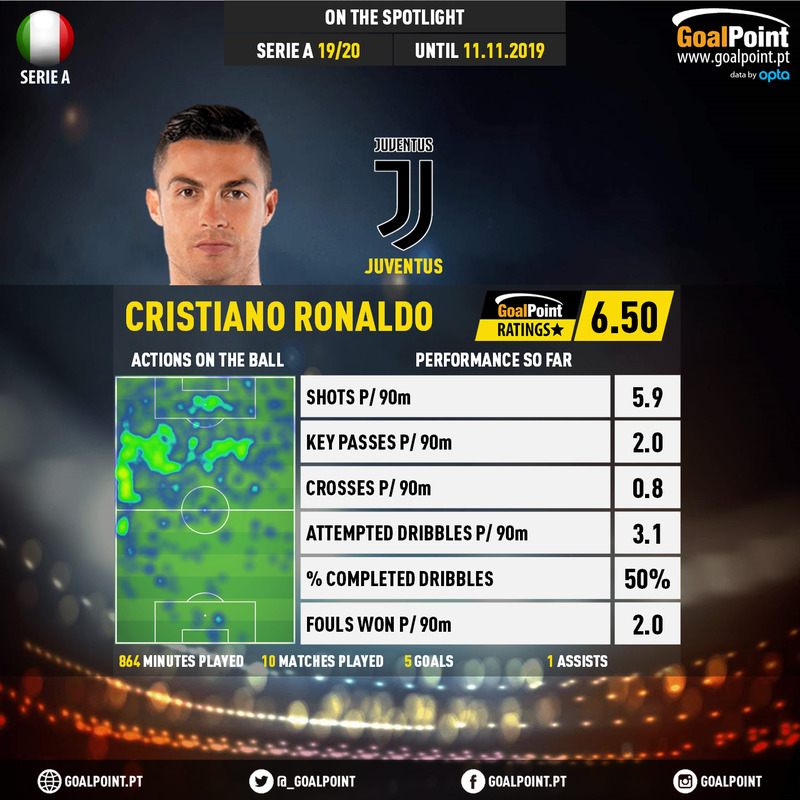 We can see Cristiano's statistics for this season in the Italian Serie A (above). Ten matches, five goals and one assist may not be the numbers he is used to achieve, but the idea that he does not dribble anyone is not accurate. In 2019/20, CR7 attempted to dribble 3.1 times for every 90 minutes in the Italian league, and was successful in half of the time. It may not be an astronomical number bearing in mind other examples, however, considering his performances in recent seasons, Capello's statement can be challenged.
Be it the characteristics of his "new" opponents, or the fact that Ronaldo recovered his winger position and being less of a striker as he used to be in Spain. The truth is, Cristiano has increased the frequency in which he attempts to dribble. In his last season at Real Madrid he attempted the gesture 2.3 time every 90 minutes and so far this season he does it 3.1, exactly the same as in 2018/19 – his first season at Juventus. In these three seasons he was able to maintain the same success rate.
We may understand what Fabio Capello was trying to say, but his words were far from accurate. And this is an understatement.