It came down to the last match of the season, but Manchester City turned Premier League champions again with a convincing win over Brighton. Pep Guardiola celebrated another major league title, while Klopp took his Liverpool to the third highest ever point total in Premier League history to still only get second place in the table. Chelsea and Tottenham grabbed the other two Champions League spots, and Manchester United disappointed yet again regardless of the mid-season managerial switch. In the bottom, Cardiff and Fulham went straight back down, while Huddersfield managed the third ever lowest point total in the league to seal relegation as well.
This is our Team of the Season, based on the Goalpoint Ratings model – picked from a pool of players who completed at least 1710 minutes (50% of league minutes) in the competition. Champions Manchester City lead the starting line-up with five of their players, followed by Liverpool with two. Three teams from outside of the top six are represented, with one player each, while Chelsea's Eden Hazard gets the honour of being player of the season.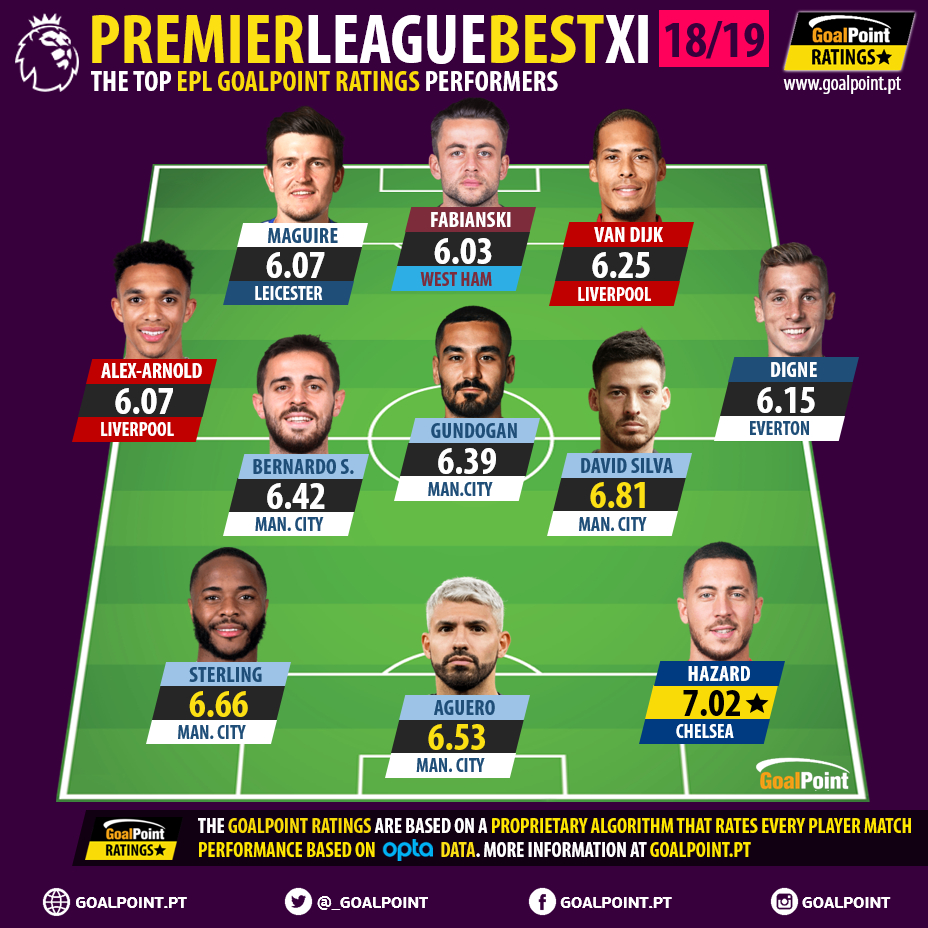 Lukasz Fabianski (West Ham) 6.03 – West Ham's Polish goalkeeper had a stand-out season for Pellegrini's side: not only did he average the second highest amount of saves per game (3.9), he combined that with the fourth highest percentage of shots saved (72.9%) and box shots saved (66.2%), proving himself as an effective goalkeeper despite the high volume of shot he's had to deal with.
Trent Alexander-Arnold (Liverpool) 6.07 – A great second season for the Liverpool youngster, in which he became an even more crucial part of Liverpool's system. Not only did he get 12 assists (0.4 per 90), he also averaged 25% crossing accuracy in his 4.8 crosses per 90.
Harry Maguire (Leicester) 6.07 – The hype around Maguire has significantly died down this season, but that hasn't stopped him from quietly having another great campaign for the Foxes. His aerials prowess is still something to behold – offensively in particular, where he wins 80% of his offensive aerials in the box – much like his ability on the ball: averaging 57% accuracy in long passes to final third (best in his position) and 0.6 dribbles completed.
Virgil van Dijk (Liverpool) 6.25 – Now widely seen as one of the best centre-backs in the world, Van Dijk was a huge part of why Liverpool finished the season with the league's best defensive record. Not only did he finish the season without ever being dribbled past and with an average only 0.08 fouls in his own third, he was also aerially dominant – leading all centre-backs with his 82% defensive aerials won – and averaged 82% pass accuracy in the opposite half.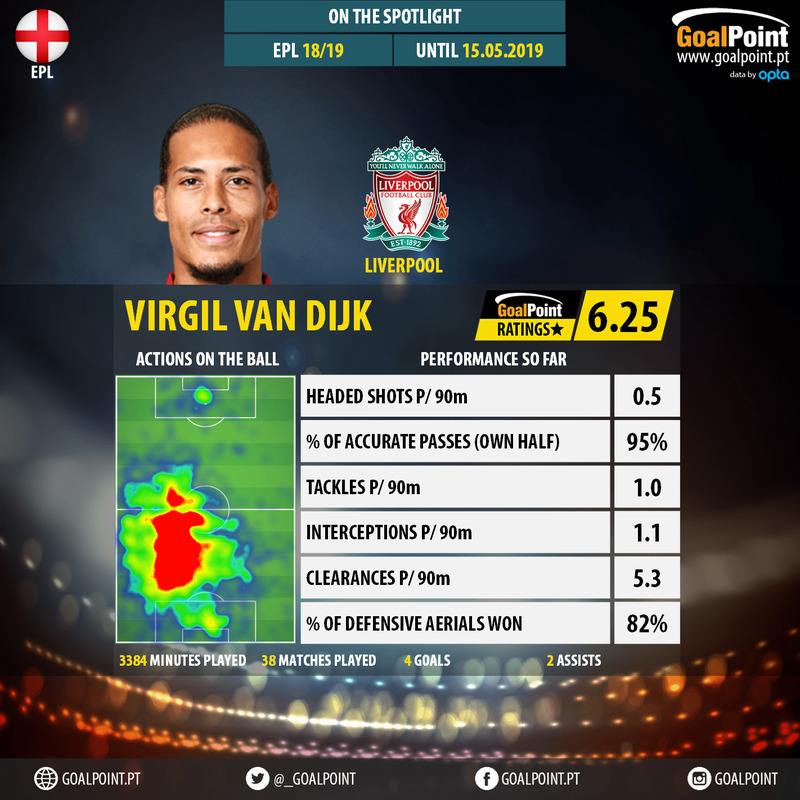 Lucas Digne (Everton) 6.15 – In the other team from Liverpool, French full-back Lucas Digne showed why he was part of the Barcelona squad up to last season. He only finished the season with four assists but no full-back created opportunities the way he did: he averaged 2.2 key passes, 1.1 set-piece key passes and 5 crosses per 90.
Ilkay Gündogan (Manchester City) 6.39 – Gündogan combined playing in his usual eight role with the tough task of replacing Fernandinho for a portion of the season and did so with great success. The German showed his ability mostly as a very accurate passer, being the most accurate long passer in the league (74% accuracy even to the final third), with only one midfielder missing fewer short passes as well (only 9%).
David Silva (Manchester City) 6.81 – At 33 years old, the Spanish international with 125 caps is the oldest player in our team of the season but still an incredible creator in the City system. Combining his 2.3 open play key passes (best of any midfielder in the league), his 0.6 big chances created (best of any midfielder in the league) and his 1.6 box shots (best of any midfielder in the league yet again), he is still a major threat in the final third.
Bernardo Silva (Manchester City) 6.42 – Seen as the heir to David Silva's Manchester City throne, Bernardo stepped up this season and was Guardiola's second most utilized outfield player in the league. Beyond his seven goals and seven assists, he was only behind David Silva for open play key passes (2.1). He also put in plenty of work off the ball – 1.1 defensive actions in the final third, 1.4 pass blocks and 1.2 tackles completed.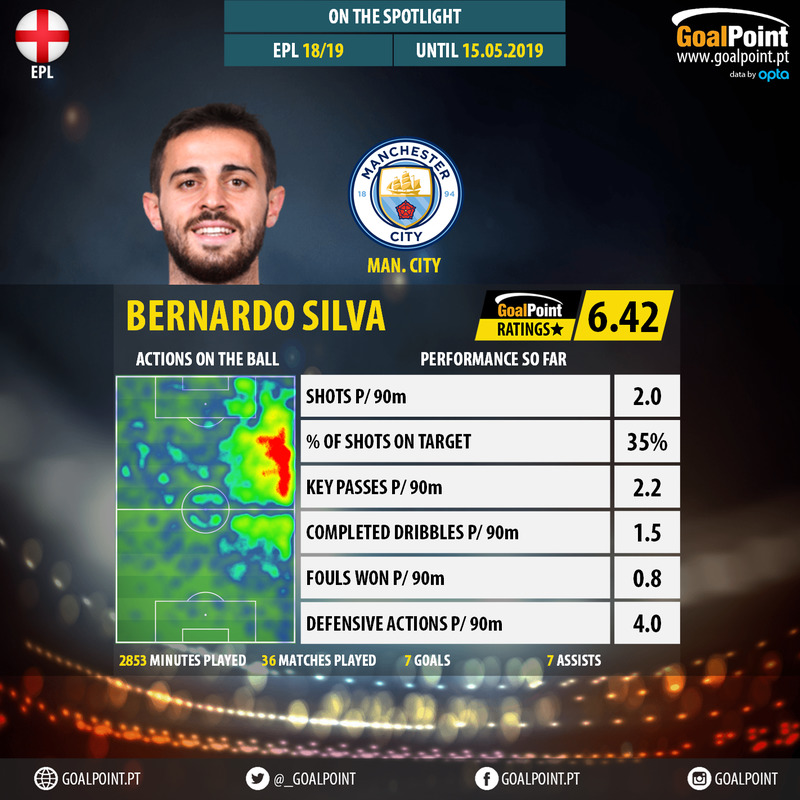 Raheem Sterling (Manchester City) 6.66 – With 17 goals and 10 assists, Sterling had another great campaign under Guardiola. His ability to show up in positions to score – 2.0 box shots per 90 (hitting the target with 51% of those), as well as 0.7 big chances – make him a constant threat. The English international also completed 2.1 dribbles per 90 in the final third alone.
Sergio Agüero (Manchester City) 6.53 – His 21 goals meant he was a goal short from being league top scorer this season, but no player averaged more non-penalty goals per 90 than Sergio Agüero (0.69). No forward shoots more often than the Argentine (4.2) and no one comes close to his volume of box shots (3.4). With 55% of big chances scored, he makes the most of the good opportunities that his teammates create.
Eden Hazard (Chelsea) 7.02 – In Sarri's first season in charge of Chelsea, Eden Hazard was the star of the show. Leading the league in assists (15) and chipping in with 16 goals himself, he was the most influential player in the Blues' new system. Not only did he create for his team-mates at the incredible rate of 2.3 open play key passes per 90 – with 0.6 chances created added to that – he lead the Premier League in dribbles completed as well (4.2) and was the most fouled player in the competition (3.2, with 1.3 of those occurring in the final third).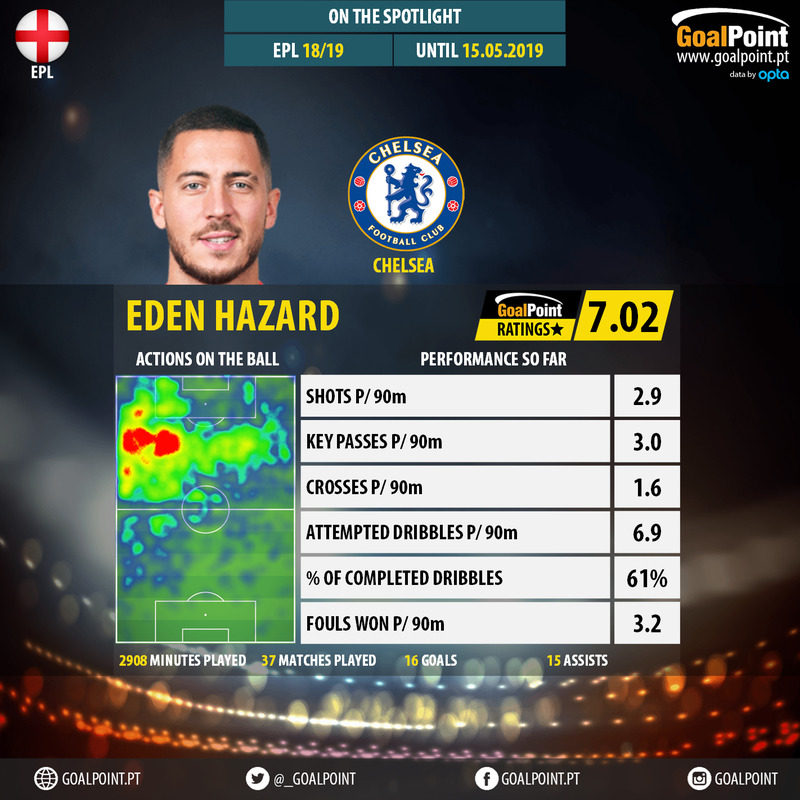 Other players on the spotlight

On the bench, Liverpool goalscorers Mohamed Salah and Sadio Mané get a spot after scoring 22 goals each.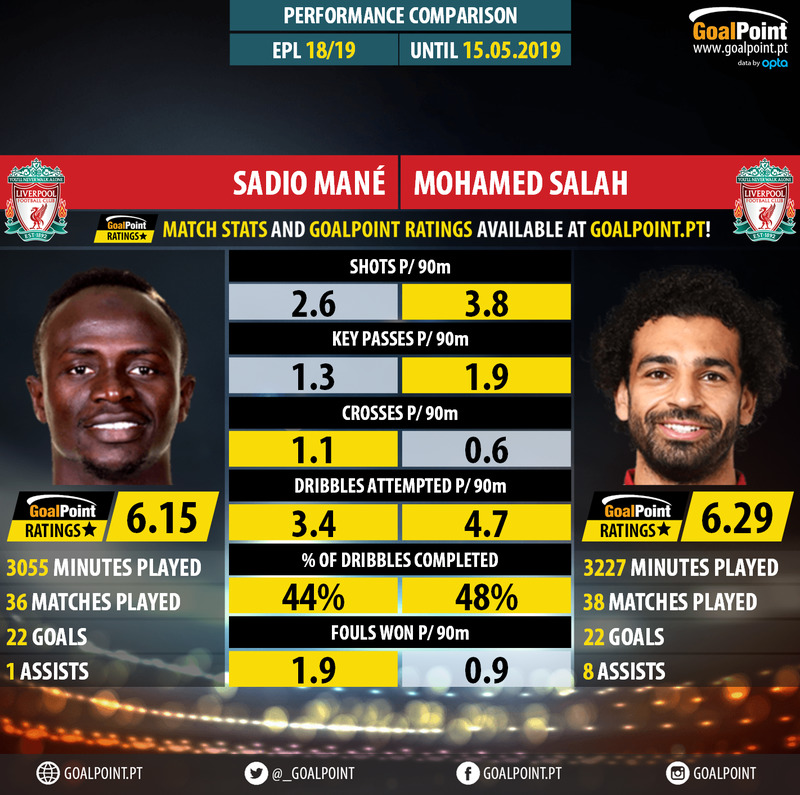 Leicester duo of James Maddison and Ricardo Pereira deserve a mention after remarkable campaigns in what was their first season in the top tier of English football. The attacking midfielder showed himself as a great chance creator (3.2 key passes per 90) and the Portuguese continues to showcase his ability as a modern full-back, on and off the ball.