Renato Sanches is yet to lit up the Swansea midfield like many would expect him to at the start of the season. In fact, a year and a half after leaving Benfica, he is yet to impress much at all. In this article we will push aside labels like "flop" or "amazing" to actually analyse him, as a player, as well as his career path so far.
Taking advantage of an opening in Benfica's midfield, he rose to the first team from the B-side with the season already underway. Establishing himself as the box-to-box in Rui Vitória's 4-4-2, he would go on to play almost 1900 minutes until the end of the season.
Why was he special?
At 18 years old, he was already physically immense. Combining strength, speed and some technical ability, he would showcase his best qualities when dribbling past opposition players, carrying from deep. He was completing 1.9 dribbles p/90 – top in the Liga NOS ranks for players in his position – alongside some solid if unspectacular tackling and possession recovering stats. Playing in the league, Benfica did have most of the possession in their matches but, to enhance Renato's quality, they would encourage him to take risks and be highly involved in their attacking set-up.
[vc_table vc_table_theme="simple"][bg#000000;c#ffffff;align-center]%23,[bg#000000;c#ffffff]Player,[bg#000000;c#ffffff]Club,[bg#000000;c#ffffff;align-center]Successful%20dribbles|[align-center;b;u]1,[b;u]Renato%20Sanches,[b;u]Benfica,[align-center;b;u]1%2C9|[align-center]2,Filipe%20Augusto,Rio%20Ave%20%7C%20Braga,[align-center]1%2C5|[align-center]3,Andreas%20Samaris,Benfica,[align-center]1%2C3|[align-center]4,Pel%C3%A9,P.%20Ferreira,[align-center]1%2C2|[align-center]5,Luiz%20Carlos,Braga,[align-center]1%2C1[/vc_table]
Midfielders with most successful dribbles in Liga NOS 15/16
Source: GoalPoint / Opta
Also, he was converting 7.7% of his 1.3 shots p/90 (92% of them from outside the box). Renato is a good long shot taker but that would always be a tough ratio to maintain. Passing-wise he has always been quite average and, with a career high 0.8 key passes per 90′ at Benfica, the last pass was for sure not his preferred mean of chance creation.
Don't believe the hype
So, you had a player who was performing quite impressively for a 18 year old, both for Benfica and for the National Team in a similar role (perhaps an even more favourable one since he would often come off the bench against tired opposition). Unfortunately, as it happens to many young talents, he was continuously hyped up by the media as flawless when he was very much a diamond in the rough.
The pressure on him was immense and his next career move would need to be carefully considered by him and everyone around him. His performances in the Champions League (player with highest average possession recoveries per 90′) and the Euro hinted to clubs that he was ready for a major league but if you think that turning the world of a 18 year old upside down won't affect his performances, you're crazy. Looking back many will say he should have stayed with Benfica for another season, but they just couldn't pass up on such immense figures. The move to Bayern was quite a questionable call, though.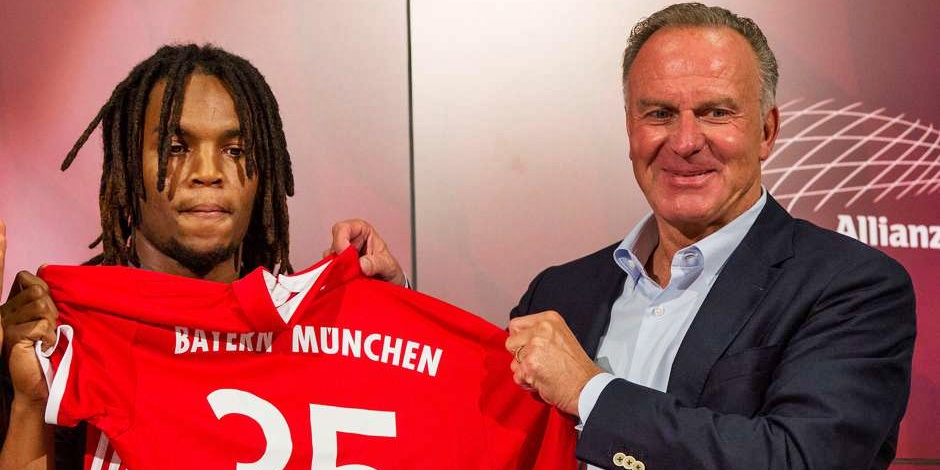 Many clubs came knocking and, while the Bayern choice was justified by him with it having a "similar club culture" to Benfica, playstyle-wise it wasn't really a match. Transitioning from their Guardiola Era, Bayern were a team that kept a lot of the ball. A team to whose central players was demanded passing ability and a high level of positional awareness. Benfica had a large portion of the ball but were more direct when in possession, allowing Renato to take the risks that make him the player he is. Outside the pitch the culture shock between Portugal and Germany was large as well.
What about time on the pitch? Well, of his grand total of six league starts, none of them occurred in back-to-back games. While he did play off the bench semi-often, he was given 10 minutes or less in 7 of those occasions. For a team that won the Bundesliga by 15 points, they could have done more for the youngster. While the argument could be made about him learning in training, the recent criticism by Bayern players on Ancelotti's sessions make that a questionable one as well.
In a period where he would be looking for minutes to help him regain his confidence, he signed a loan deal with Swansea. Paul Clement, now Swansea manager and previously connected to Bayern, was the main influencer in the transfer, promising Premier League playtime for the Portuguese. But reducing everything to playtime is too simplistic: at this time he needed stability more than anything.
Instead, he moved to yet another country, where he is adapting to another culture – as opposed being loaned to a club in Germany where he was or in a country with more similarities to his –, in a club under tremendous pressure to perform. In midst of the world's most valuable relegation fight, there's no such thing as easing a player into the team – he needs to perform and is expected to do so now. Not to mention that jumping from two teams that breeze through 90% of their league, to one that takes the least amount of shots per game of their league is quite an impact as well when it comes to playstyle.
The numbers that tell the story
[vc_table vc_table_theme="simple"][bg#000000;c#ffffff],[bg#000000;c#ffffff;align-center]%40%20Benfica,[bg#000000;c#ffffff;align-center]%40%20Bayern,[bg#000000;c#ffffff;align-center]%40%20Swansea|Minutes%20played,[align-center]1897,[align-center]623,[align-center]511|GoalPoint%20Rating,[b;align-center]5.77,[align-center]5.45,[align-center]5.22|Goals%20%2B%20Assists,[align-center;b]2%20%2B%201,[align-center]0%20%2B%200,[align-center]0%20%2B%200|Shots,[align-center]1.3,[align-center;b]1.7,[align-center;b]1.9|Key%20passes,[align-center;b]0.8,[align-center]0.6,[align-center;b]0.7|Passing%20accuracy%20(opp%20half),[align-center;b]80%25,[align-center;b]86%25,[align-center]71%25|Forward%20passes%20%25,[align-center;b]29%25,[align-center]24%25,[align-center]20%25|Dribbles%20attempted,[align-center]4.5,[align-center]4.5,[align-center;b]5.5|Successful%20dribbles,[align-center]1.9,[align-center;b]2.7,[align-center;b]3.0|Tackles%20conceded,[align-center]1.5,[align-center]1.9,[align-center]4.0|%25%20Possession%20lost,[align-center]20%25,[align-center]16%25,[align-center]27%25|Tackles,[align-center;b]1.6,[align-center]1.3,[align-center;b]1.6|Tackle%20effectiveness,[align-center;b]67%25,[align-center;b]64%25,[align-center]53%25|Interceptions,[align-center]1.1,[align-center;b]1.6,[align-center]1.2|Possession%20recoveries,[align-center;b]6.7,[align-center]4.8,[align-center;b]6.7[/vc_table]
Averages per 90 minutes in the Domestic Leagues
Source: GoalPoint / Opta
So, this is where we stand: Renato is taking more shots than ever (1.9 compared to 1.3 at Benfica), is attempting more dribbles than ever (5.5), but is ultimately accomplishing very little. He's losing possession very often (21 times p/90 compared to around 16 at Benfica), getting tackled 4 times (compared to 1.5 in Lisbon) and the dribbles he is completing are occurring further away from goal than in years past.
His passing is even less accurate despite attempting less forward passes, and, while he has always been a high risk/high reward midfielder, his successful stats show very little reward this season. He is trying to do more, often making bad calls and submitting himself into too many individual plays.
While his defensive numbers are naturally higher due to being in a team with less of the ball, he is also missing more tackles (1.4 per 90 to 0.8 back with Benfica) and is making a much smaller portion of his tackles in the opposition half.
Swansea's problems go way beyond though: sitting bottom of the PL table, struggling massively to create anything offensively and having glaring weaknesses in their squad. If Swansea ever get to a point of relative effectiveness and balance within their system, surely it won't be him the one holding it back. It is just hard to imagine that it will happen anytime soon.
A upper mid-table Bundesliga club could be giving him playtime while keeping him in Germany and, even staying in the Premier League, a more established project like Southampton's (who picked up Lemina midfield ball-carrier this summer) could benefit him a lot more.
In conclusion, I don't believe he will turn into a future Balon D'Or – nor did I ever, despite that ridiculous clause on his transfer deal –, but that doesn't mean he can't have a top-level career. With a combination of maturity, luck and managers who can impact the way he interprets the game, he will surely still reach a consistently high level as a footballer.