Ralph Hasenhuttl's arrival in England was a complete gamechanger for Southampton's season: The Saints went from a relegation spot to the 16th place they finished in, with a five-point cushion to Cardiff – the third side that would go down to the Championship for 2019/20. Not only did their results drastically improve – from 0.64 points per game before his arrival, to 1.25 points per game after taking charge –, Southampton's stylistic approach underwent a considerable transformation as well. Known for his intense pressing style, the Austrian manager quickly turned the Saints into one of the best pressing sides in the English top tier. Their defensive actions in the final third per ninety minutes were raised from 5.1 to 6.5 – being league leaders in this stat since Hasenhuttl took over – and their defensive actions in the middle third also improved from 17 to 19.1, becoming the best in the Premier League in this category as well.
Southampton also became the second best side at limiting opposition passing accuracy in their own half, with their opponents averaging 85.5%. Only the champions, Manchester City, did better (84.5%), and by a small margin. Under Mark Hughes this number stood at 89%, with the opposition finding it much easier to play through Southampton's pressing attempt. Alongside this stat, opposition also started playing a larger percentage of long-passes (11.5% vs 10.2%) since Hasenhuttl took over – going long more often being a natural response to a more organized and more aggressive press.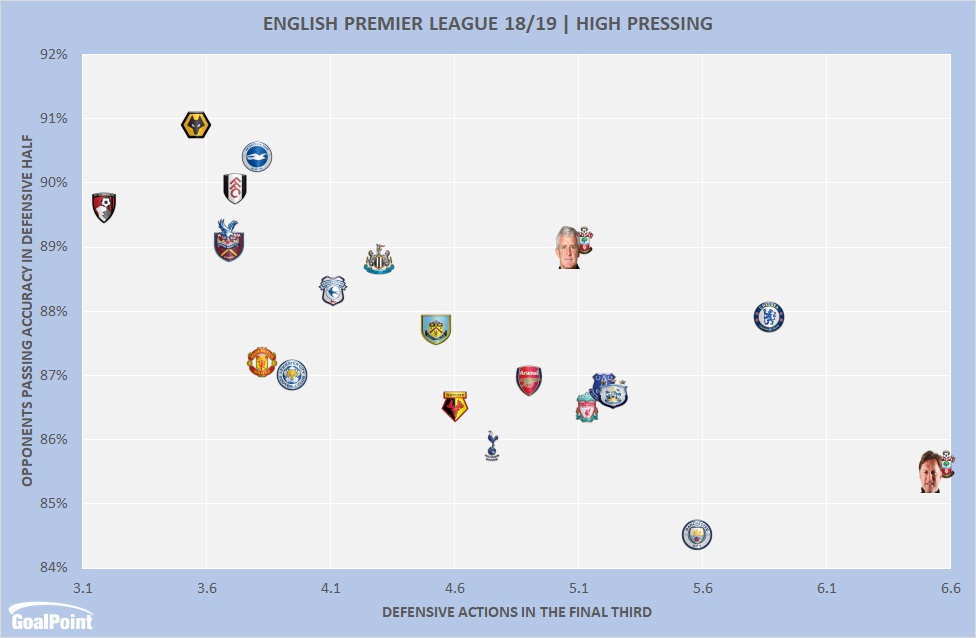 The coach took over a side that already boasted some defensive actions in high areas, adjusted their press and turned them into the elite Premier League team at recovering possession high up the pitch. With a much more effective pressing system in place, the team drastically improved their goalscoring ability. Before the arrival of the Austrian manager they were averaging only 0.86 goals per game, that improved to a 1.35 average under the new tenure. Not only did they improve their amount of big chances, from 1.6 to 1.9 per game, they also started converting a much higher portion of these (36% vs 17%).
Back on the defensive side of things, the Saints diminished not the quantity but the quality of opposition shots since the managerial switch. While they have conceded more shots per game (14.2 under Hasenhuttl vs 12.9 under Mark Hughes), they have still managed to limit opposition's real goalscoring opportunities by lowering the opposition's amount of inside the box shots (8.3 under Hasenhuttl vs 9.1 under Hughes) and big chances (1.9 under Hasenhuttl vs 2.1 under Hughes). This led to their amount of goals conceded dropping from 1.85 to 1.57 per game.
Hasenhuttl's impact on the squad's individual players has also been clear to see: not only did he improve the individual performances of most players in the squad, the new manager also made sure that certain players who had minimal opportunities to shine before him, became a key part of the team's system. Young Polish defender Jan Bednarek went from having only 81 minutes of playtime, to 2070 minutes on the pitch after the managerial switch – using that time to become one of the three players in the league, alongside Fabian Schär and Sol Bamba, averaging 3,0 interceptions per 90 minutes. One of his partners in defense, the danish Jannik Vestergaard, also had an outstanding second part of the season under Hasenhuttl. On the 16 games he started, Vestergaard averaged a GoalPoint Rating of 6.21. Only one centre back in the league did beter, and that was Virgil van Dijk (6.26).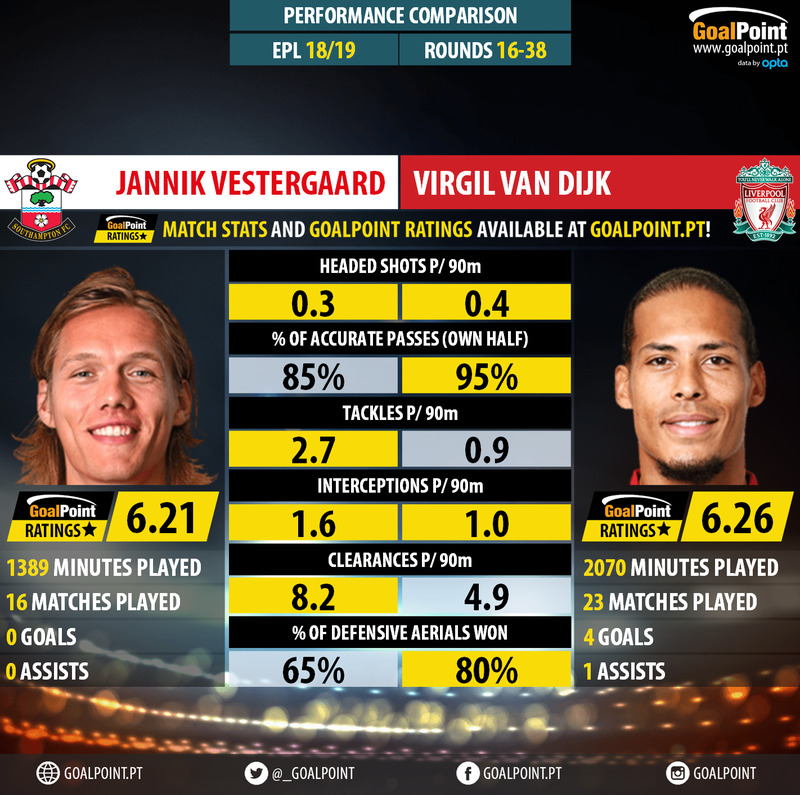 Midfielder James Ward-Prowse also saw an increase on his game time (from 201 minutes to 1747), as well as in his performance quality. Under the new manager he became one of the team's main chance creators, particularly through his involvement behind set-pieces, with 1.9 key passes per 90 (1.39 of those coming from set-plays), as well as a direct threat from these situations – no player scored (33%) or hit the target (83%) more often than Ward-Prowse from direct free-kick situations.
Ralph Hasenhuttl's impact on the Southampton team has been tremendous and one can only expect the team will continue to grow with him in charge after his first pre-season at the club this summer.