A  new rule came into play for the 2019/20 season: from this season onward, the ball did not have to leave the box on the goal kicks. This is one of the most impactful football regulation changes in recent years. Over the last seasons we've seen more and more teams attempting to play out of the back and now they would be able to do it from an even deeper position, with the added bonus of the opponents being unable to enter the box while the goalkeeper (or any other player) takes the first touch.
Very few single actions tell you more about a team's identity and approach than their how they take their goal kicks, particularly after the new rule has been enforced. The goalkeeper will follow specific orders from the manager and how the way the players position themselves says a lot about how they will attempt to get to the opposition's goal. With the play stopped and the opponents not to close, that first pass speaks a lot about the team's identity or strategy for that game.
In this study, we looked at goal kicks in the top five leagues plus Liga NOS to figure out how leagues and teams are dealing with the new rule. Let's start off by pointing out that only 20.8% of goal kicks are played into the box, but there are clear differences between leagues.
Serie A 🇮🇹: 30.3%
Premier League 🏴󠁧󠁢󠁥󠁮󠁧󠁿: 25.1%
Bundesliga 🇩🇪: 24.7%
Ligue 1 🇫🇷: 17.7%
La Liga 🇪🇸: 15.6%
Liga NOS 🇵🇹: 11.7%
In Liga NOS only one out of 8.6 goal kicks are played into the box, while in Serie A one in every 3.3 are taken this way. At the club level, Premier League teams have both the highest and the lowest ratios.
#1 Brighton 🏴󠁧󠁢󠁥󠁮󠁧󠁿: 69.3%
#2 Man. City 🏴󠁧󠁢󠁥󠁮󠁧󠁿: 61.5%
#3 Juventus 🇮🇹: 61.3%
#4 Napoli 🇮🇹: 59.8%
#5 Man. Utd 🏴󠁧󠁢󠁥󠁮󠁧󠁿: 51.2%
——————————————–
#33 Benfica 🇵🇹: 31.7%
——————————————–
#112 Boavista 🇵🇹: 1.8%
#113 Eibar 🇪🇸: 1.1%
#114 Metz 🇫🇷: 1.0%
#115 Newcastle 🏴󠁧󠁢󠁥󠁮󠁧󠁿: 0.9%
#116 Sheffield Utd 🏴󠁧󠁢󠁥󠁮󠁧󠁿: 0.0%
Graham Potter's Brighton is the team that makes the most of the new rule. Over two thirds of their goal kicks are played into the box, with Matt Ryan playing the ball into his centre-backs in the box. A massive stylistic change when compared to the team's approach under Chris Hughton, who left at the end of last season.
Unsurprisingly, City show up in the second spot, but with an important detail. If we just look at the 10 City goal kicks that ended in the opposite half, we notice that City have the longest long kicks in Europe, averaging 71.1 meters. Ederson's long passing ability gives the team an uncommon variety of solutions when playing from the back.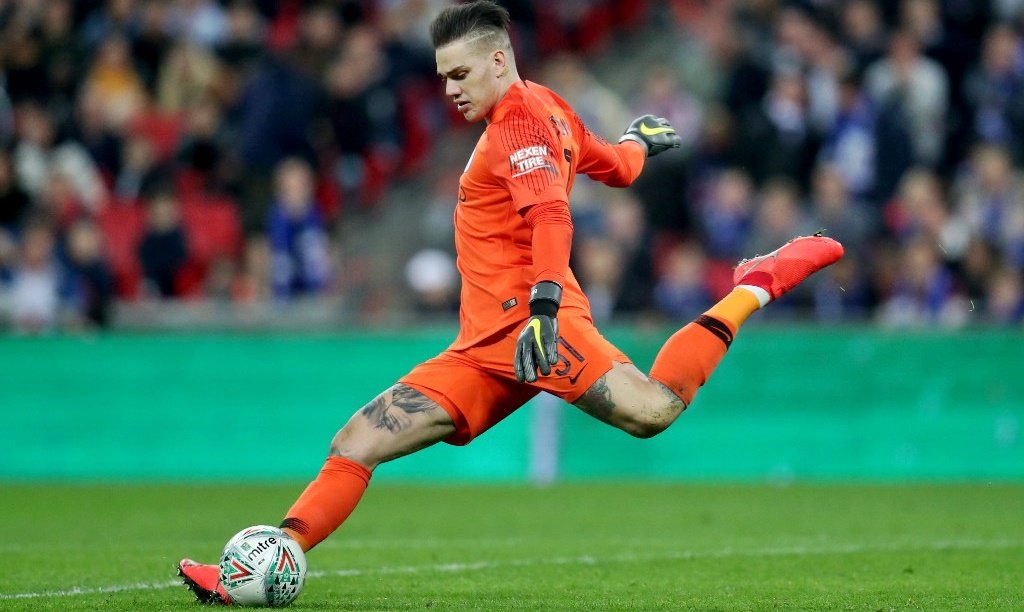 Dean Henderson follows him up with 68.1 meters, which adds to justify why Sheffield United are the only team in Europe yet to play a goal kick into their own box.
We will now also look at goal kicks played into the team's own third of the pitch, as a more accurate measure of how often a team attempts to play out of the back. On average, 41% of goal kicks are played into that area, with Serie A leading yet again with 52.4%. This is what it looks like at the team level:
#1 Bayern M. 🇩🇪: 91.8%
#2 Paris SG 🇫🇷: 86.4%
#3 Genoa 🇮🇹: 83.5%
#4 Juventus 🇮🇹: 81.3%
#5 Paderborn 🇩🇪: 78.4%
——————————————–
#13 Benfica 🇵🇹: 70.7%
——————————————–
#107 Boavista 🇵🇹: 12.4%
——————————————–
#112 Valladolid 🇪🇸: 9.9%
#113 Getafe 🇪🇸: 8.0%
#114 Alavés 🇪🇸: 7.8%
#115 Eibar 🇪🇸: 6.4%
#116 Sheffield Utd 🏴󠁧󠁢󠁥󠁮󠁧󠁿: 3.3%
Attempting to play short out of the back usually lends itself to criticism from supporters, due to the risk that comes from it. By taking more risks close to your own box, you're more susceptible to the opposition's press. There is indeed a small correlation between percentage of short goal kicks and opposition defensive actions allowed in the final third per game.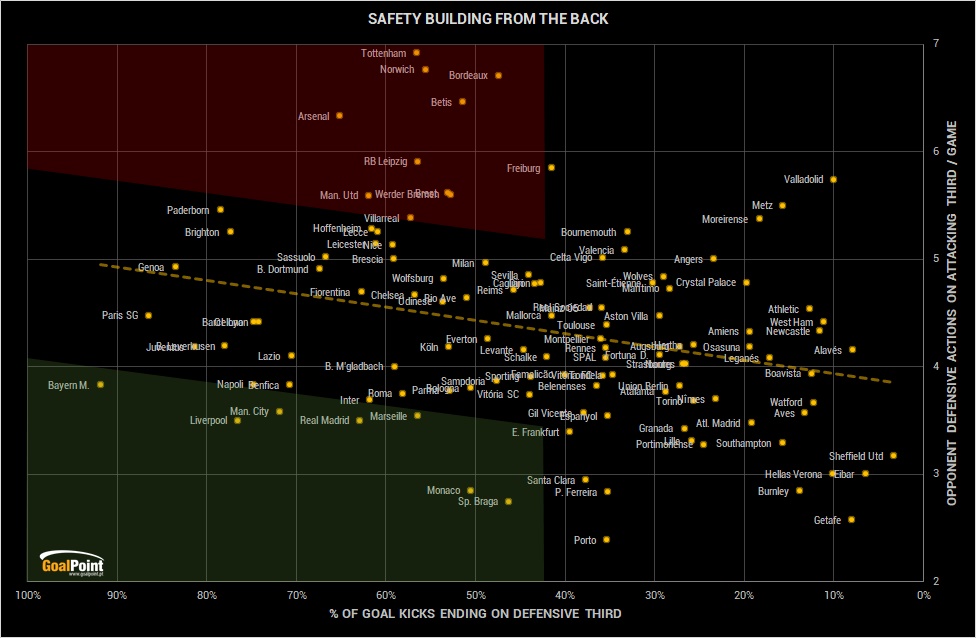 However, there's also several teams that combine building up from the back with not allowing defensive actions high up the pitch to their opponents. More than just talking about building up from the back as a factor to make a team successful, we should think of success as a team's ability to combine that identity with processes that diminish how exposed the team is to detrimental mistakes.
Clubs like Braga in Portugal, Monaco, Liverpool, Bayern or Manchester City, all average a very high percentage of short goal kicks without getting caught off guard during the first phase of build-up. While clubs such as Tottenham, Bordeaux, Betis, Norwich or Arsenal, build up from the back often, but also tend to expose themselves to mistakes in the process. In all of those teams we can easily identify mistakes during build-up that lead to goals conceded in recent times.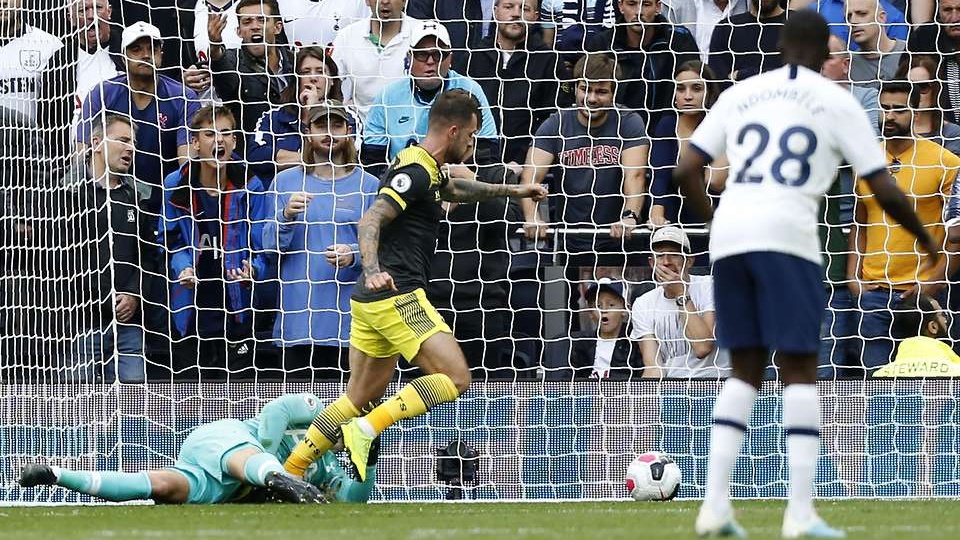 The goal Tottenham conceded against Southampton stands out because Hasenhuttl's Southampton has the second highest amount of defensive actions in the final third per game in the Premier League (6.6), making this an excellent example of the importance of taking into account the opposition's characteristics when thinking about how to approach your build-up for a specific game.
To try and figure out which teams adapt themselves to the opposite press the best, we first had to figure out which teams use high pressing the most within each league. Three metrics were used for that:
Defensive Actions in the attacking third
Opponent possession losses in their defensive third
Opponent passing accuracy in their own half
After that, the teams were divided by how intense their high press is: very intense high press, average high press, low intensity high press.
Very intense high press:
England 🏴󠁧󠁢󠁥󠁮󠁧󠁿: Liverpool, Southampton, Man. City, Leicester, Everton and Man. Utd
Spain 🇪🇸: Getafe, Eibar, Osasuna, Barcelona and Sevilla
Germany 🇩🇪: Leverkusen, E. Frankfurt, Wolfsburg, Bayern, Schalke and Mainz
Italy 🇮🇹: Juventus, Napoli, Torino, Sampdoria, Fiorentina, Atalanta and Inter
France 🇫🇷: Paris SG, Lille and Marseille
Portugal 🇵🇹: Porto, Sporting and Benfica
Low intensity high press:
England 🏴󠁧󠁢󠁥󠁮󠁧󠁿: Wolves, Newcastle, West Ham, Norwich, Bournemouth, Tottenham, Aston Villa and Crystal Palace
Spain 🇪🇸: Betis, Valencia, Levante, Celta, Mallorca and Valladolid
Germany 🇩🇪: Hoffenheim, Augsburg, W. Bremen, Union Berlin, Hertha, Freiburg and Paderborn
Italy 🇮🇹: Lecce, SPAL, Parma, Udinese, Cagliari, Milan and Lazio
France 🇫🇷: Rennes, Angers, Nice, Dijon and Toulouse
Portugal 🇵🇹: Moreirense, Rio Ave, Tondela, Portimonense and Marítimo
Reims in Ligue 1 stand out as the most interesting case in Europe, due to how much they adapt their build-up to the opponent. David Guion's team play 45.7% of their goal-kicks short on average, but that number increases to 62.9% against low pressure teams and lowers all the way to 13.8% against intense, high pressing sides. As a result, Reims have beaten their league's three most intense pressing teams (PSG, Lille, Marseille) this season by 2-0 and are tied for 5th in Ligue 1.
In Portugal there's two different extreme cases in opposite ends of the spectrum. Vítor Oliveira's Gil Vicente averages 37.9% short goal kicks but took only 6.3% of goal kicks that way against Porto and Benfica. Famalicão on the other hand did the opposite, going for short goal kicks (68%) in their matches away against Porto and Sporting, with that number lowering to 25% against the teams in the 'low intensity high press' category.
Calculating each team's Adaptability degree will become more accurate and consistent as the season goes on – i.e. Sporting is yet to face an high intensity pressing side –, but we can already see some tendencies starting to form. Teams with a higher degree of adaptation tend to concede less open play goals per game.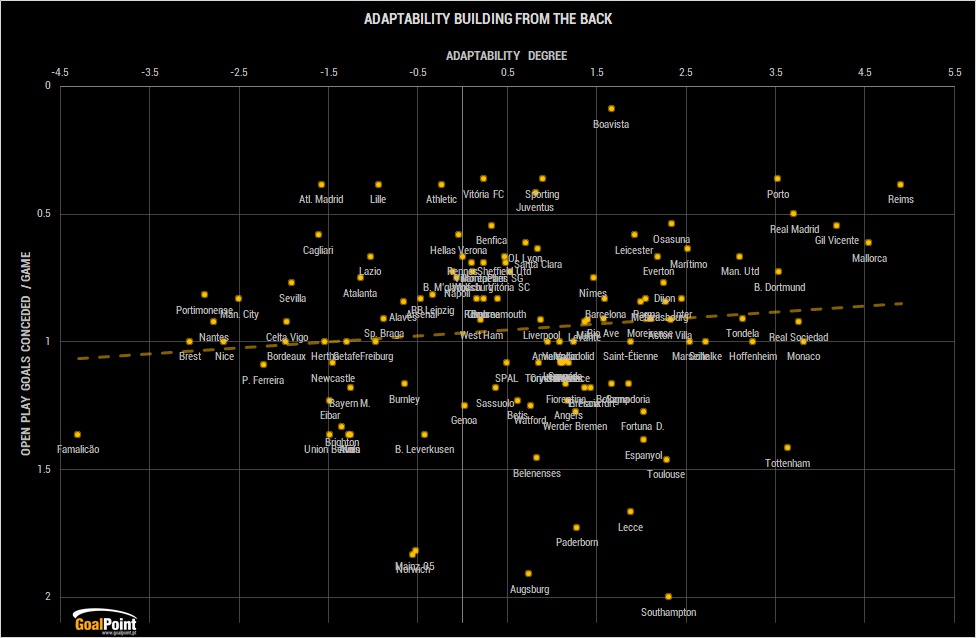 There are exceptions, of course, since a team's defensive security doesn't depend exclusively on how they build-up, but that just makes the relationship between the two variables more interesting.
Something we can be sure of, though, is that the new goal kick rule not only made this one of the most important moments of the game, but also helped us find another way to understand how each manager thinks and approaches each match.
Contact us at [email protected] or through this page to know more about our professional football services.